What is affiliate marketing?
Simply defined, affiliate marketing is the process of earning a commission by promoting the products of other people or companies.


An affiliate program is a relationship between online merchants and affiliates, enabling the affiliate to advertise the company's products or services for a commission.
Do I have to pay a fee to join your affiliate program?
No. There are absolutely no charges of any kind to become a TextRoyal affiliate.
How does the affiliate program work?
In an affiliate program, participating parties earn commissions on sales generated through text links, buttons, specific product images, or banners via successful marketing campaigns. We offer an array of banners and other highly-efficient marketing resources for you. When you refer a customer and they use our service, we give you a 10% commission from the sale, renewable each time the customer makes a purchase.
Is my site eligible for the affiliate program?
Almost all types of websites are eligible except for sites that:

• Promote or motivate violence;

• Promote or display sexually explicit content;

• Promote or motivate illegal activities;

• Infringe on intellectual property rights;

• Promote discrimination based on sexual orientation, gender, religion, nationality, disability, or race.
What are cookies, and why are they essential?
Cookies (small text files stored on visitors' computers) are typically used to monitor affiliate sales, and the parameter that defines how long they remain on a visitor's computer is called "cookie life." In affiliate programs, this refers to the time between a click on the affiliate site and the last day we're willing to pay the affiliate a commission of the sale made by their visitor/referral.


Our "life of a click" is valid for 30 days. This means that if anyone you refer makes a purchase from us within 30 days after clicking on your unique link, you're entitled to a commission (provided they do not click on someone else's affiliate link before making a purchase).
What am I responsible for as a TextRoyal affiliate?
You're only required to utilize the links and creative marketing resources we would provide. They enable you to generate and place links on your website and other platforms listed in our terms. We'll take care of everything else.
I own/run more than one website; do I need to submit a separate application for each site?
No, separate applications aren't required. If you have more than one website, we advise you to manage them all through a single account using our tracking tools. You can monitor each site's progress and receive a single commission payment for all of them.
If I have more questions about TextRoyal's affiliate program, who do I contact?
Please reach out to Alec, our Affiliate Relationship Manager, at info@textroyal.com.
Where will I find the ads and links to place on my website after I become a TextRoyal affiliate?
Simply log in to your affiliate account, click on "Affiliates," and scroll down to find your personal referral link and banner ads.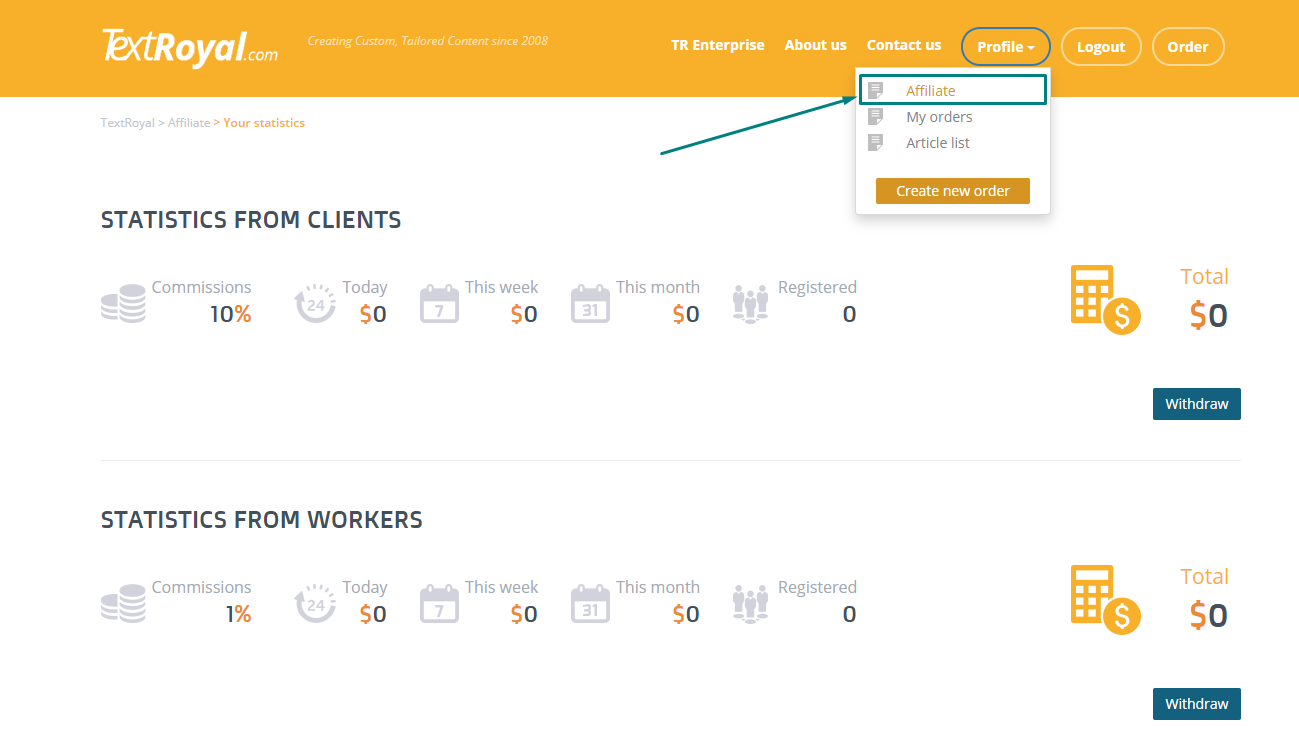 Where in my site can I place the affiliate links?
Your affiliate links should be placed where they'll be easily visible to your visitors - your social media page, email account, website's homepage, navigation bar, and other areas with high traffic. Your links are more likely to convert when anyone can easily find them on your site.
Is there a minimum number of links I'm required to place on my website?
No. You can place as many links as you want. You may also want to try a range of links to see which has a higher potential of increasing your click-through rates and commission earnings.
Do my own purchases count for commissions?
No, they don't.
Is there a minimum payout amount?
There is no minimum amount you can withdraw. You can request for your commissions to be paid to your PayPal account anytime. We will transfer the funds within one business day.
How about product returns or refunds?
If a client's refund is approved or if charges to a credit card are reversed as a result of a dispute or credit card fraud, the commission earned on that transaction will be deducted from your account.
Who handles orders and customer service requests?
We process all orders, sales, and customer service requests for every client you refer to our website. There's nothing to worry about other than promoting our services. We'll handle everything else.
How will TextRoyal know that the customer originated from my site?
The link we'll provide you is unique and enables us to identify you as the referrer. We also monitor all related information for each customer you refer to TextRoyal.com.